Several bowling alleys, leagues, and event centers exist around the world that organize professional leagues and offer visitors parties and events. One of the most popular bowling centers is AMF, with locations throughout the United States.
If you want to have a great time bowling with family and friends, eat, drink, and enjoy other activities, AMF is the best place to be. Booking a lane at AMF will cost $4.74 during low-peak hours and $13.09 during high-peak hours per person for a single game.
One of the reasons for the popularity of this bowling center is its affordable prices. If you add shoe rentals to a game's total price, it will only cost around $9.5 per person. The center also offers some special deals on specific days that allow you to save even further.
So, let's look at bowling prices at AMF if you want to enjoy a single game with friends or book an event for your guests.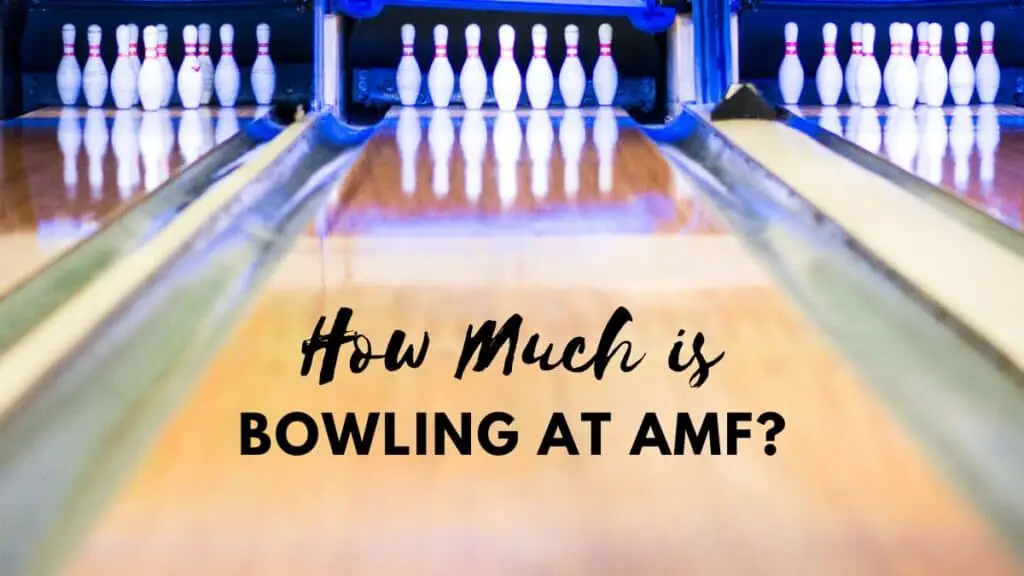 AMF Bowling Prices
AMF offers its customers services in three categories: games, leagues, and parties. Let's look at the price of a single bowling game at AMF on different days and during different hours.
If you want to book a lane for a game of bowling with friends, it will cost you $4.74 per person from Monday to Thursday, and the timings are from 17:00 to 20:00. On Monday, a single game costs $13.09 per person from 20:00 to 23:00.
On Tuesdays, during the peak hours from 20:00 to 23:00, a single bowling game only costs $2.22 per person. Not only this, but the shoe rentals and PBR beers also cost $2.22 per individual. These are known as Tuesday Specials.
On Wednesday and Thursday, the bowling alley closes at 22:00, and the shoe rentals cost $4.79, just like on other days except for Tuesdays.
Then there is an After Party Fridays deal, in which a single of bowling costs $4.74 from 10:00 to 22:00, and if you want to stay up late, you can enjoy unlimited bowling with friends from 22:00 to 12:30 for $12.89 per person. The shoe rentals are not included in this price.
On Saturdays, the timings are from 10:30 to 20:00, and the price of a single game of bowling is $6.84 per person. The shoe rentals cost the same as on any other day, which is $4.79 per individual. From 20:00 to 12:30, you will have to pay $7.54 per game per person on Saturdays.
Sunday is known as Funday at AMF because you get a chance to enjoy bowling from 11:00 to 18:00 for just $4.74 per game. From 18:00 to 23:00, a single game would cost you only $3 per person. The shoe rentals during these hours also cost $3 per individual.  
AMF Games and Events Prices
Besides bowling, AMF offers its visitors arcade games and laser tag. Their events range from corporate parties and family get-togethers to birthday, social, and custom events celebrations.
If you want to save money, the holiday season is the best time to book your party at AMF. For example, currently, they have an offer going on, according to which if you book on October 31st, you get a free $25 certificate with your purchase and a free platter of desserts. This event will have to be booked online using a promo code.
It is also possible to plan a totally customized event by choosing from one of AMF's holiday packages or giving your own specifications.
AMF offers services from planning to setup and after-party cleanup through its dedicated event planners. You can even book a personal host for your party who will keep your guests entertained for the entire time and make sure they are well-fed.
Teenagers always want to have a different type of entertainment. AMF has these folks covered by offering blacklight bowling lanes, lane side loungers, and its special Instagrammable 6-lb burger or the two-foot long hot dogs to enjoy the party to its fullest. These delicacies are made to be shared among your friends, and you will only find them at AMF. Teen parties are for kids aged 13 and up.
Finally, there are special kids' parties at AMF that you can choose according to the event's theme and the kids' age. From kid-friendly menus to unlimited bowling and arcade games, these events are total fun for the little ones. And what's more? You can have them arrange bowling bumpers on the lane so the kids won't have to worry about gutter balls ever!
To book one of these events or parties, you will have to visit AMF's official website or visit its nearest location.
AMF Leagues and Social Clubs
If you want to play bowling regularly and have an AMF center near your place, you would want to become a league member. Not only will you get discounts on food and drinks, but you also get a few free games every week.
Leagues and social clubs at AMF are for every type of player, whether they are laidback and low-key or professional and experienced. You can easily locate a league, social club, or tournament happening near you and get yourself enrolled.
If you are a league member, you will get 10% off parties and events and free practice games. Moreover, you will get a 20% discount on food and drinks. Joining a league is the best way to meet new people and make friends who share the same interests as you.
And finally, as a Bowlero league member, you receive a complimentary membership in the PBA League Bowler Certification program. Not only will you be able to play in tournaments, but you will also get awards for playing exceptionally.
If you don't want to join a league, you can join a social club near you. These clubs exist for people who just want to play for fun. It's possible to locate an AMF bowling center near through its official website and avail of special discounts and deals currently going on.