Bowling is becoming popular day by day. Many different incredibly loved variations of the sport have made their way to entertainment centers and bowling alleys. One of the most popular and successful forms of modern bowling is cosmic bowling. Not many people are aware of this type of bowling.
You might be wondering, what is cosmic bowling, and how does it work? Well, that is precisely what I am here to tell you.
In this article, I will talk about cosmic bowling, how it works, and appropriate alley timings of the game. I am also going to talk about some of the best attires to wear if you are going cosmic bowling with your friends and family. So, sit back, relax, and make sure you read this piece till the end.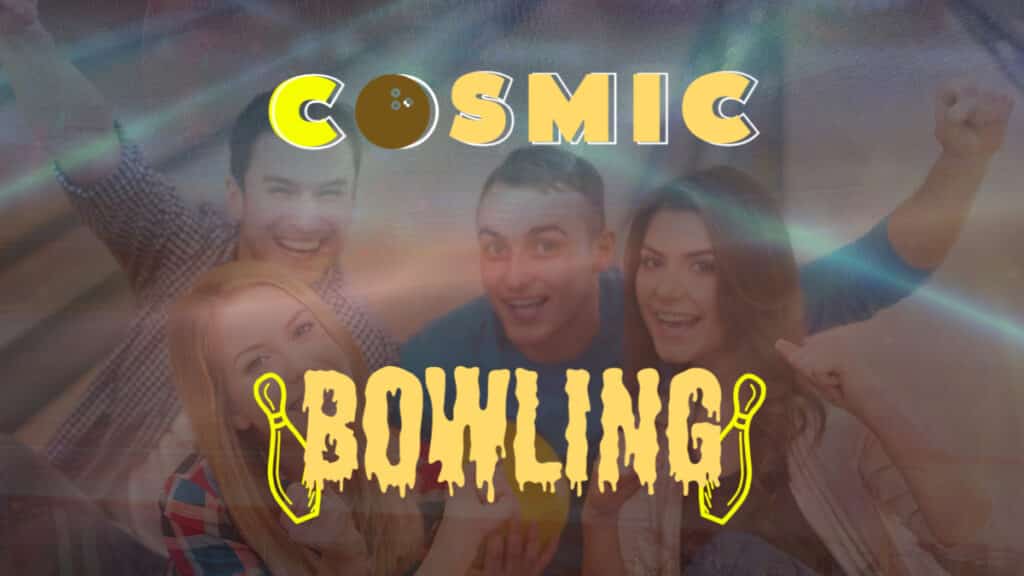 What Does Cosmic Bowling Mean?
Bowling is considered a professional sport meant mostly for players who enjoy the game or want to approach a proper professional career in it. In all of this, somewhere, the fun value of friends and families was lost in bowling.
That is why bowling centers in America came up with an incredible idea of spicing things up and making bowling fun and exciting. The term cosmic bowling means a game of bowling with a cosmic environment with multi-colored lights, neon bulbs, black-lights, and many other additional amenities.
Cosmic bowling turns the plain boring lighting of a bowling alley into an amazing groovy and fun lighting setting for professionals and casual players looking to have a fun game of bowling with their friends and loved ones.
How Does Cosmic Bowling Work?
Cosmic bowling is not different in terms of rules or regulations. It is all a matter of the environment, vibe, and overall experience of the game that is different. You might be wondering, how does cosmic bowling work? Well, there are a lot of elements that make cosmic bowling different in comparison to regular bowling.
The first thing is the lighting. The simple white lights are replaced by black-lights, neon lights, dance flickering-lights, and other groovy colorful lighting options to make the overall mood fun and exciting.
Some bowling alleys also use fog machines to make the alley foggy and mysterious. This effect helps the atmosphere reach a cosmic fogginess which increases the overall cosmic bowling experience.
Fun and exciting music being boosted out of the speakers placed inside the bowling alley is also a must. To make the environment dance-friendly and groovy, good music is also included.
This, along with amazing self-serve food options, glowing lanes, and other fun activities and games, are also available in bowling alleys offering cosmic bowling options because of how family-friendly and entertaining the overall cosmic bowling experience is meant to be.
What Time Does Cosmic Bowling Start?
Interested in going for a fun and enjoyable cosmic bowling activity with your friends and family to your nearest bowling alley? You must be curious when the local bowling alleys open their gates for cosmic bowling for kids, friends, and families.
Cosmic bowling is a nightlight-based game with glowing neon lights and fluorescent bulbs. That is why it is not played in the morning. Cosmic bowling timings start at night. Most bowling alleys start cosmic bowling from 6 pm onwards till midnight, so you can go and have a great time with your buddies and mates.
What to Wear to Cosmic Bowling?
If you are thinking of having a great time and looking good simultaneously in the bowling alley while playing a game of cosmic bowling, you must wear proper attire for the cosmic bowling environment.
Make sure you are wearing something that is light in color and stands out when the black-lights and the spotlights are directly on top of you. Wearing colors that are invisible or too dark will not be great if you want to make yourself look highlighted out of the lot.
Another great choice for you can be wearing a fluorescent t-shirt. These t-shirts glow up in the dark and look super-cool when you are in the groovy and mysterious environment of a cosmic bowling alley. That is what you want to make your look glamorous and fantastic in the alley.
Check out these: fluorescent t-shirt
Best Outfits for Cosmic Bowling
If you are still not sure what you need to wear to your cosmic bowling alley to look gorgeous while you are scoring strikes and having a great time among friends and family? Well, to make things easier for you, here are some of the best combinations of attires and outfits you can wear to the cosmic bowling alley.
Neon Green Top and White Pants
This is the kind of outfit you need to go for. It is a fun and casual experience; you do not need to wear anything formal. A neon green top will shine bright in the darkness, and the white pants will make you look highlighted and stand out from the entire crowd of people.
Light Blue T-shirt with Blue Jeans
Another great choice of attire is a light blue T-shirt which looks light and breezy and decent at the same time. The blue jeans give a casual yet not-so-casual vibe which would be perfect if you are not a fan of too glowy and shiny clothes. You will play well and look good at the same time.
White T-shirt and Shorts
If you are not in the mood for getting dressed casually either and you are thinking of staying in full comfortable, light, and breezy clothing, you can choose a White T-shirt and shorts of your choice. It is a fun and chill look, and you will be able to play pretty easily in this attire.
Conclusion
Many people say bowling is losing its popularity, but I do not believe that is the case. Variations of the game, especially cosmic bowling, are increasing the popularity of the sport in young ones and children.

I hope you learned a lot from this guide, and you apply what you have learned in the bowling alley next time you go there. Hopefully, you have a great time experiencing cosmic bowling in the future.