Bowling parties are a fantastic way to celebrate special occasions like adult birthdays or add excitement to your social gatherings. With creativity and planning, you can elevate a typical bowling event into a memorable experience for everyone involved. In this article, we'll explore some fun and unique bowling party ideas for birthday invitations, birthday decorations, and even a candy buffet that will ensure your celebration stands out from the rest.
To begin, consider transforming your event with engaging themes and decorations. For example, you can add a touch of visual flair to your party by decorating the walls with bowling posters or hanging wall decals. You can also enhance the atmosphere with mood lighting, such as string lights or glow-in-the-dark bowling pins. Feel free to get creative and tailor your theme to the interests and preferences of your guests.
In addition to decorating your party space, incorporating entertaining activities and games will keep your guests engaged and entertained. For instance, consider introducing goofy bowling challenges like bowling backward or "granny bowl," where participants must bowl silly or unconventionally. This adds extra fun and keeps the experience lighthearted for guests of all ages.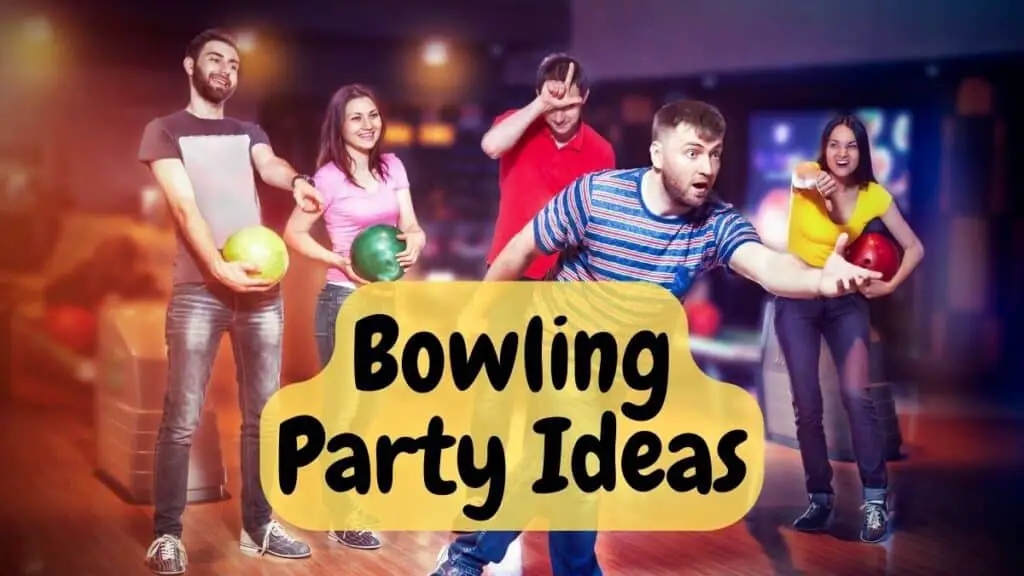 Selecting the Perfect Theme
Choosing a theme for your bowling party, whether a baby shower, birthday celebration, or any other occasion, can elevate the entire experience and make it memorable for everyone involved. With various options available, you can tailor your party to your preferences and guests' interests by incorporating cake decorations and photo booth props.
A disco theme can transport you and your guests back to the groovy '70s. Decorate the bowling alley with disco balls, funky lights, and play classic disco tunes. Please encourage your guests to dress in their best retro attire, such as bell-bottom pants and platform shoes.
Embrace the nostalgia of the '80s by decking the venue in bright colors, neon lights, and iconic '80s paraphernalia. Ask your guests to wear their best '80s-inspired outfits, like leg warmers, shoulder pads, and teased hair, and set the mood with a playlist of hits from that era.
A vintage theme can provide a classy touch to your bowling party. Consider incorporating elements from the 1950s and 1960s, like vintage bowling attire and old-school decorations. Play tunes from those decades and serve classic cocktails and snacks to enhance the atmosphere.
For a more modern twist, consider a glow-in-the-dark theme. Decorate the venue with glow sticks, neon lights, and blacklight-reactive decorations. Encourage your guests to wear white or neon-colored clothing to stand out under the black lights. You can swap out regular bowling balls and pins for glow-in-the-dark versions to make the game more exciting.
Lastly, remember to tailor your bowling party ideas to your guests' preferences, especially if it's a birthday or special occasion event. The key is to create a fun and immersive experience everyone will enjoy together. Remember to send out bowling party invitations and decorate the venue with bowling party decorations.
Check out this Complete Bowling Theme Party Pack.
Creative Invitations and Decorations
Organizing a bowling party is a fun and exciting way to celebrate special events like baby showers or birthdays. To make your event memorable, focus on creative invitations, paper decorations, and cake toppers that reflect the bowling theme.
Invitations
Start by designing eye-catching invitations to set the tone for your bowling party. You can choose from pre-made templates or create your own custom design. Include all the essential details, such as date, time, location, and specific instructions (like dress code or food preferences). Remember to be creative and pick colors, fonts, and graphics representing the bowling theme.
Decorations
Once the baby shower invitations are sent, it's time to focus on decorations to transform your venue into a bowling paradise. Here are some ideas to incorporate paper and birthday into your party decor. Remember to capture the memories with a photo!
Signs: Create custom signs to welcome your guests and direct them to different areas, like the food section or the game area. You can use bowling-related phrases or puns for a fun touch.
Lights: Use colorful or themed string lights to add to the ambiance of your party. You can also opt for glow-in-the-dark decorations to create a unique atmosphere.
Balloons: Fill your space with balloons in the shape of bowling pins and balls, or choose a color scheme that matches your party theme. Consider attaching them to chairs or using them as table centerpieces.
Banner: Create a bowling-themed banner at the entrance or above the food table. This can include a celebratory message, event name, or catchy slogan.
Streamers: Hang colorful streamers and ribbons around the venue to complement your party's theme. You can also create a backdrop for photos using streamers and bowling-related props.
Remember, the key to a successful bowling party, whether for a baby shower, birthday, or any other occasion, is to be creative and consistent with your theme. You will undoubtedly create an unforgettable event for your guests with the right invitations and decorations. So make sure to strike the perfect balance with all the necessary items.
Fun and Challenging Bowling Games
Bowling Bingo
Bowling Bingo adds a fun twist to your typical bowling game. To play, create bingo cards with different bowling outcomes such as strike, spare, gutter ball, and the numbers one through nine. Mark off the corresponding output on your bingo card each time you bowl. The first person to get bingo wins a prize! This game excites your event and encourages friendly competition among players.
Bowling Relay Race
A Bowling Relay Race is a great team-building activity for parties and events. Divide your group into teams and have each team member take turns bowling one frame using party decorations and birthday party supplies. The team with the highest combined score wins the baby shower. You can add more challenges, like having players bowl with their non-dominant hands, to strike a unique spin on traditional bowling.
Poker Bowling
Poker Bowling combines two popular games – bowling and poker. Players earn playing cards based on their performance in each frame: for example, a strike earns two cards, a spare earns one card, and a gutter ball makes no cards. At the end of the game, players use their cards to create the best poker hand possible. The player with the highest-ranking hand wins.
Goofy Bowling
Goofy Bowling is the perfect activity for birthday parties and baby showers. It's a fun and unique way to celebrate with silly and creative ways to bowl. You can use our birthday party supplies and party decorations to set up a memorable event. Participants of all ages and skill levels can join the fun, whether blindfolded or using their opposite hand. Get ready to strike up some laughter at your next event!
Tag Team Bowling
Tag Team Bowling is another team-based game that requires cooperation and strategy. It is a great addition to any baby shower, birthday party, or special event. Teams of two take turns bowling one ball each per frame, with one player aiming for a strike and the other seeking a spare if needed. This game helps build communication and teamwork skills. It adds an extra layer of excitement and competition to your bowling party. Make sure to include it on your table of fun items for the event.
Disco Bowling
Disco Bowling is a great idea for a baby shower, birthday, or any celebration. Set up a disco ball, colorful lights, and play upbeat music to create a lively atmosphere for your guests. Please encourage them to wear disco-themed outfits and offer prizes for the best-dressed or highest-scoring player. This unique twist on traditional bowling will surely leave a lasting impression on your guests, making it an unforgettable event under the stars.
Read more in our article: What is Cosmic Bowling? -All You Need to Know.
Tasty Food and Refreshments
When planning a baby shower or birthday party, you'll want to serve delicious food and refreshing drinks that will keep your guests satisfied and energized. Here are some crowd-pleasing options for your event, including bowling supplies and items.
Nothing says bowling party like a classic and tasty pizza. You can't go wrong with various pizzas, from traditional cheese or pepperoni to more adventurous toppings. Ordering a few different types will ensure something for everyone at your party.
Snacks are essential for any celebration, and a bowling party is no exception. Set up a snack station with finger foods that guests can munch on while socializing and playing. Ideas include bowling ball-inspired foods like popcorn balls or donut holes or even fun finger foods like nachos and potato skins.
For fans of savory classics, consider offering hot dogs as an additional food option. They are easy to prepare in large quantities and can be customized with various toppings. Offering a condiment bar alongside the hot dogs lets guests create their perfect game-time snack.
Every adult celebration is complete with a selection of beverages, and a bowling party gives you the perfect opportunity to offer some unique drinks. We have a mix of classic favorites and local brews for those who enjoy beer. You can even set up a beer sampling station for guests to taste and compare options.
If you want to impress your guests with something fancy, try incorporating a special cocktail into the mix. Create a signature drink for your event, like a bowling-themed cocktail or a colorful punch that reflects the vibrant atmosphere of a bowling alley.
Remember, the key to a successful bowling party, baby shower, or birthday celebration is to keep your guests well-fed and entertained with tasty food and refreshment items. With these ideas, you can strike a memorable event that your friends and family will be talking about for years to come.
Organizing Party Activities
Photo Booth
Set up a photo booth at the bowling alley for your birthday party or baby shower. Decorate it with bowling-themed party supplies like a backdrop and fun items such as bowling pins, balls, and silly glasses or hats. Capture memories by taking pictures with a camera or smartphone. Consider printing the photos on-site or sending digital copies to your guests after the event.
Want to go all in? Check out this amazing Inflatable LED Photo Booth Tent.
Party Favors
Show your appreciation to your birthday party guests with thoughtful party favors. Consider gifting small items like custom bowling-themed pens, keychains, or even miniature toy bowling sets. You could also create a goodie bag with a mix of these items and some sweet treats. Remember to pick favors that align with your star's theme and that your guests will appreciate.
Party Favor Ideas:
Bowling pin or ball-shaped stress relievers
Custom bowling-themed pens
Bowling pin or ball keychains
Small toy bowling sets
Candy or snacks in treat bags
Friendly Competitions
Enhance the excitement of the bowling party by organizing a few friendly competitions for the attendees. Create teams or pairs for games like relay bowling, where each participant takes turns bowling until one team finishes a full game first. You can also try other creative games, such as poker, bowling, or shouting and dancing after each strike, as suggested by Kim & Kalee.
Encourage participation at your bowling party by offering small prizes or ribbons for the winners. Remember to keep the atmosphere light and enjoyable, focusing more on the fun aspect rather than solely on performance. With the right bowling party decorations and bowling birthday party supplies, this will ensure a memorable event for everyone involved.
Celebrating Special Occasions
Bowling parties are excellent for celebrating special occasions such as birthday parties, graduations, and other memorable events. With a fun and flexible atmosphere, bowling alleys can accommodate guests of all ages, making them ideal for gatherings with family, friends, and children. Plus, they offer a wide range of party supplies and items to enhance the celebration. So why not strike up some fun under the stars at a bowling party?
Consider adding unique decorations to your event for a truly unforgettable bowling birthday party. You can create a bowling-themed garland by cutting out bowling-related pictures like bowling balls and pins from colored paper and attaching them to a string to add that perfect touch to your venue. Customize your party invitations with retro-inspired designs to set the tone for a fun-filled evening.
When it comes to entertaining your guests, bowling alleys offer a variety of activities to participate in, apart from the classic game. Set up a few fun and interactive games for children to enjoy, such as a "Shout it Out" game where they call out the names of different bowling pins as they knock them down. This will keep the kids engaged and make the experience more enjoyable for everyone.
Read more on bowling with kids here: Bowling for Kids.
In addition to games, remember to provide tasty treats and snacks for your guests. Consider ordering personalized bowling-themed cakes or cupcakes to stick with the bowling theme. These can feature bowling ball and pin designs and will have your guests talking long after the party is over.
Remember to prepare birthday bowling party favors as well. Create small gift bags filled with miniature bowling sets, bowling-themed candies, or other fun and functional items as a token of appreciation for the attendees.
Bowling parties are a fun and exciting way to celebrate special events, like birthdays and graduations, with family, friends, and children. Strike up some fun at your next celebration by hosting a bowling party and let the good times roll with Jul and the stars.
Conclusion
By incorporating these fun and unique ideas into your bowling party, you can ensure an unforgettable experience for you and your guests. Remember to choose a theme that suits the occasion and personal tastes of the attendees. Decorations like garlands, signs, and thematic centerpieces will set the atmosphere and encourage guest interaction.
In addition to the bowling, introduce entertaining party games catering to all skill levels and ages, promoting a relaxed, enjoyable atmosphere. Enhance the experience by organizing a menu with finger foods and refreshing drinks that are easy to enjoy in a social, casual setting.
As the host, remember to send out eye-catching invitations that capture the essence of your party.
Thoughtfully planning and organizing your unique birthday bowling party can provide an interesting and memorable event for your friends and loved ones. With the right combination of themed decorations, entertaining games, and delicious food, your guests will surely remember your celebration as a cherished memory. Strike a fun-filled night under the stars this Jul!
Frequently Asked Questions
What are some popular bowling party themes?
Some popular bowling party themes include retro or vintage nights, superhero or action-hero-based themes, and specific color schemes. Mix it up with a Glow-in-the-Dark bowling night or a Rock 'n' Roll night. The key is to choose a theme that fits your guests' interests and personalities. Strike the perfect balance with a fun and memorable theme, whether for a birthday celebration or a gathering under the stars.
How can I make a bowling party enjoyable for adults?
To make a bowling party enjoyable for adults, you can include activities such as Bowling Bingo, organize a tournament with prizes, or invite people to come in costumes related to your theme. Additionally, consider offering various food and drink options and setting up a music playlist that keeps the atmosphere lively and entertaining.
What are some creative ideas for company bowling events?
You can organize a team-building activity for company bowling events, such as a bowling tournament with themed teams or a friendly competition between departments. Choosing a corporate bowling party package incorporating food, drinks, and entertainment can make planning more manageable. Consider designating specific lanes for mingling and networking to encourage interaction among coworkers.
What kind of party favors can I provide for a bowling celebration?
Party favors for a bowling birthday celebration can include personalized bowling pins, custom-designed bowling towels, or even mini bowling alley sets as mementos. You can also incorporate your event's theme into the party favors, such as superhero keychains for a superhero-themed night in July or vintage candy for a retro-themed birthday party.
How can I organize a successful themed bowling night?
To organize a successful themed birthday party at a bowling alley:
Choose the perfect party supplies that resonate with your guests and allow for creative costumes or decorations.
After choosing your theme, plan your food, drinks, music, and activities to match the birthday party theme.
Encourage guests to dress up and participate in themed games or contests to further enhance the atmosphere.
Remember to decorate your bowling event space with the right party supplies to help create a fun and immersive experience for everyone attending the birthday party in Jul.
What are some tips to make an adult bowling birthday party memorable?
To make an adult bowling birthday party memorable:
Focus on creating a personalized and engaging experience for the guest of honor and attendees.
Incorporate the birthday person's interests or favorite theme into the event, plan fun games to break up standard bowling, and offer an appealing food and drink menu. You can also consider hiring a DJ or setting up a photo booth for entertainment and lasting memories.
Remember, the key is to create an atmosphere that makes everyone feel included and entertained.