Welcome to your comprehensive guide to bowling attire, designed to answer all your questions about what to wear for bowling. Whether you're an amateur bowler seeking the most comfortable outfit, or a professional seeking the ideal attire, we've got you covered. In this article, we dive deep into the topic of bowling outfits, highlighting their importance and guidelines for selecting the best fit.
You may wonder, "What constitutes a bowling outfit?" or "What should I wear to my next bowling match?" This article is the perfect place to understand what to wear to bowling and how the right choice can impact your game.
We discuss everything from what the professionals wear – yes, there is such a thing as a professional bowling outfit – to bowling attire rules to even bowling outfit ideas for the fashion-forward ladies out there. We also give special attention to bowling attire for ladies, ensuring we cover the best attire for everyone interested in the sport.
Bowling may not require a specific outfit like other sports, but selecting the proper bowling attire can enhance your performance. So, stay tuned as we explore the realm of bowler outfits, discussing what to avoid and invest in for your future bowling games.
Our discussion will continue beyond simply discussing the rules; we're here to give you actionable insights on selecting the best bowling attire for your needs. By the end of this article, you'll be equipped with a wealth of knowledge on bowling outfit guidelines, helping you make an informed decision the next time you gear up for the lanes. So, let's begin your journey to mastering the art of selecting the perfect bowling outfit.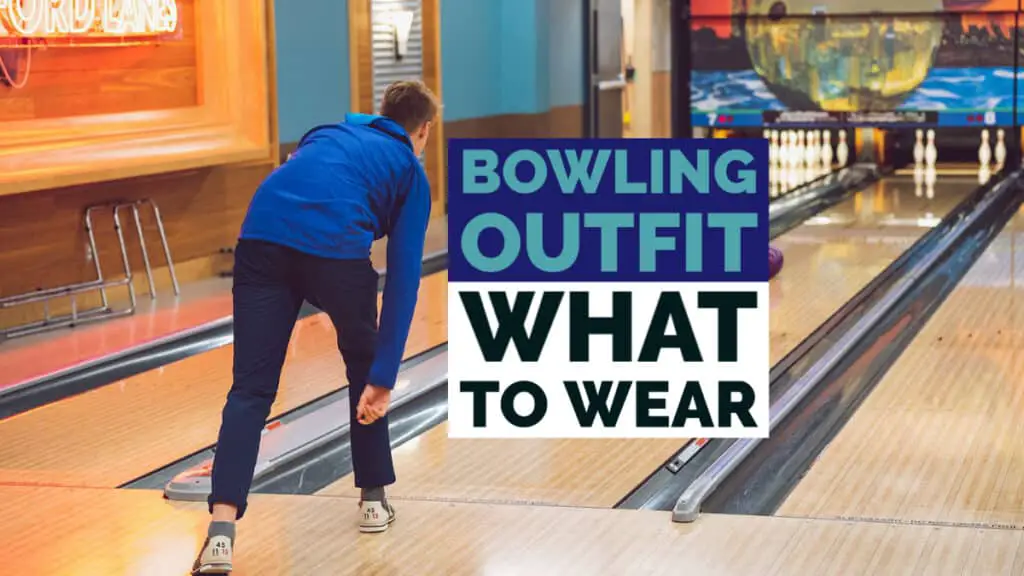 What is a Bowling Outfit?
What, exactly, is a bowling outfit? Regarding bowling attire, it's all about balancing comfort and respect for the bowling dress code. Essentially, bowling outfits encompass any clothes you wear when heading to the bowling alley, whether for casual fun or professional competition.
While there's no hard and fast rule dictating what you can or cannot wear, the best pants for bowling, or the ideal shirt, there's a general understanding that maintaining a decent dress code is essential. After all, you'll want to focus on your game without worrying about wardrobe malfunctions! When choosing clothes for bowling, comfort should be at the forefront of your decision.
Depending on the individual's preference, various outfits can qualify as bowling attire. Historically, bowling t-shirts and khakis were popular for professional bowling outfits. Yet, the contemporary bowler's outfit is far more diverse, and many top bowlers opt for an outfit bowling their style and comfort.
The question of "what to wear bowling" or "what should I wear when bowling" doesn't have a one-size-fits-all answer. From bowling in jeans to deciding if you can wear shorts bowling, the choice is truly yours. Just remember, what bowlers wear should not impede their ability to perform.
As far as bowling attire for ladies is concerned, the range of bowling outfit ideas is expansive. Whether you're planning to wear bowling pants or prefer a more casual ensemble, your bowling ootd should make you feel confident and at ease. Remember, professional bowling attire may vary significantly from what to wear when bowling with friends.
While outfits for bowling choices vary greatly, they should always adhere to the bowling attire rules and meet the alley's specific dress code. It's important to remember that proper bowling attire isn't just about what you wear and how you play. The aim is to maintain a sharp focus on honing your skills and mastering the art of bowling. So whether you're deciding what to wear when going bowling or searching for the ideal bowling outfits for ladies, prioritize comfort and personal style – and let your bowling skills do the talking.
Eager to upgrade your bowling wardrobe? Don't wait! Dive into the selection of stylish and comfortable "Bowling Outfits" right here!
Bowling T-shirts
Let's delve into the world of bowling t-shirts, a staple in professional bowling attire. So, what exactly are these iconic bowling shirts?
Bowling t-shirts are best described as straightforward, woven camp shirts, often adorned with colorful patterns. These short-sleeved shirts are typically seen on bowlers worldwide, from those practicing in local lanes to top-tier professionals. High-quality bowling t-shirts are commonly made from silk, giving them distinctive elegance and comfort.
The designs on a bowling t-shirt are characteristically understated yet captivating. They often feature a range of patterns, from organic wave-like designs to diverse geometric shapes. The color schemes vary greatly but lean towards a simple yet stylish aesthetic.
Regarding cost, bowling t-shirts are generally less expensive than other sporting attire. However, certain versions, like the premium silk bowling t-shirt, can be priced higher based on the brand and any customizations. Despite this, investing in a good quality bowling t-shirt can be a wise move, especially for those contemplating a professional bowling journey.
So, if you're wondering what to wear for bowling, a traditional bowling t-shirt is always a reliable and fashionable choice. Whether you're a professional or enjoy the sport casually, these shirts add a touch of classic bowling culture to your outfit.
Ready to add a dash of humor to your bowling attire? Click to explore these quirky and stylish Bowling T-Shirts that will make you stand out in the lanes!
What Do Professional Bowlers Wear?
Many times, I have been asked this question, what bowling outfit do professional bowlers wear? As I said before, there is no hard and fast rule for pro bowlers to wear specific attire, but some experienced bowlers follow a pattern sometimes.
Many professional bowlers wear high-quality loose, comfortable bowling shirts with branded sponsorships. Along with those, they decide to wear breathable polyester pants, offer comfort, and allow stretching, which can be necessary at a professional level.
But that's not the only thing bowling professionals wear. At times, bowling professionals might wear casual t-shirts and khakis with them. The trick is to be wearing whatever makes you feel the most comfortable. But, of course, if you are entirely satisfied, then whatever you wear suffices.
Bowling professionals understand the value of a comfortable outfit. That is why they usually keep cool and comfortable upper and lower body clothing and multiple pieces to easily take shots without being hindered by their attires. In a professional game, the last thing you want is to take a mistake shot because of your outfit.
What Kind of Pants Do Bowlers Wear?
Well, it depends on the occasion; if the event is casual and you are going out with many friends or loved ones, and you are thinking of wearing something suitable for the gathering, you can go a slightly semi-casual route with pants.
Jeans are very commonly misunderstood when it comes to bowling. However, not all jeans are bad for bowling. Tight jeans, yes, can be an issue because they will not offer a lot of room for breathability or comfort. But baggy and loose jeans can keep you looking slick and performing well because of how comfortable they are and what great range of motion they offer you while bowling.
Another great pant choice is a pair of trousers. Trousers with drawstrings and loose and stretchable material provide a lot of movement ease needed for a good bowling game. The goal is to make sure everything you are wearing, in some way, helps you play the game a bit better.
Are you looking for the perfect blend of comfort and style in your bowling attire? Look no further! Click here to discover our top picks for the Best Pants for Bowling!
What to Wear for Bowling
Well, are you thinking about going bowling, huh? Lucky for you, I have made a list of all the best things to wear when going bowling casually and professionally. So let's take a look at it.
Bowling T-shirts
Bowling t-shirts are one of the best things you can wear to a bowling alley. Whether going to a professional bowling event or with friends and loved ones, a bowling t-shirt looks perfect and would suit you immensely, so choose to wear it.
Jeans
Jeans are also a great lower-body clothing material that you can wear, given that it is loose and baggy. This will allow you to breathe, sweat less, and stay utterly comfortable in the lower body because that will be activated a lot in the bowling exercise.
Long shorts
Long shorts are one of the best things to wear for comfort in a bowling alley. They are made of different materials, and you can choose any. However, a pair of shorts that are longer than your knee height will provide you comfort and access to motion that you can use, which is throwing the bowling ball.
Trousers
Trousers are usually made of fleece and soft fabrics like Polyester etc. These things can be the best for strenuous or light exercise like bowling. They allow you to comfortably take your positions and move around without feeling problematic.
Khakis
Khakis are not just made for jungle exploration. They make excellent lower-body clothing materials. They are soft and good-looking but also perfect for making any physical movement and stretching you might need before you throw the bowling ball at the pins on the other end.
Jackets
One of the most stylish clothing choices for bowling is, without a doubt, a jacket. You can wear a simple t-shirt under and pair the duo with jeans, and you will look simply fabulous. You should try this combination out.
Ready to rock the lanes in style? Don't miss out! Click here to browse the "Best-Selling Bowling Clothes" that take the bowling world by storm!
Can I Wear a Dress to Bowling?
Well, if it is a date, an anniversary, or a similar occasion that you are heading to the bowling alley for, then wearing a dress will not be a bad idea as long as it's not very revealing.
If you can move around and bowl a few shots in the alley comfortably, then, indeed, wearing a dress will not be a problem. Just be comfortable at all times while bowling.
What Not to Wear When Going Bowling
Now that we have looked at things that are best for bowling, it is also important that we look at some of the outfits you shouldn't wear to a bowling alley. Here is a list of such attires:
Tight Jeans
Tight jeans are an absolute no when it comes to going bowling. They do not allow movement, are uncomfortable, and offer no breathability.
Anything that might expose you while bowling
If you wear a skirt or a small pair of shorts, you will be hindered in your ability to move freely, so do not wear these things to a bowling alley.
Formal Suits
If your intent to go to a bowling alley is just entertainment and food, then wearing formal suits is okay, but if you plan to throw the bowling ball, then wearing formal suits will be the wrong choice for you.
Conclusion
Bowling outfits may not seem a big deal to you, but wearing the wrong ones can sometimes cause problems. That is why taking heed of this advice would be great for you. I hope you learned a lot from this article and that you will utilize the knowledge gained here to make better bowling dress choices and have a great bowling career ahead of you!