Bowling is a sport everyone can play and enjoy. It helps in relieving stress and can be played by people of all ages and skill levels, making it a perfect activity for recreation. By arranging a game of bowling at a local club, you can expect to socialize with new people.
Since bowling is a relatively easy sport to learn, several bowling clubs exist all over the USA, so people of all age groups can have some fun. Main Event is a club with multiple locations in different cities, offering state-of-the-art bowling lanes and facilities to both beginners and pro bowlers.
In addition to bowling, Main Event also offers other games and recreational activities like Billiards, karaoke, laser tag, mini golf, and rock climbing. So, if you want to have a fun evening with family or friends, this is one location that is not going to disappoint you.
Main Event is also known for arranging bowling birthday parties and other events for its members, and their packages are not very expensive. If you're wondering how much bowling is at Main Event, you are in the right place.
Here we will explore Main Event prices if you want to play a game of bowling with your friends, enjoy some mouth-watering food, or wish to throw a birthday party for a loved one.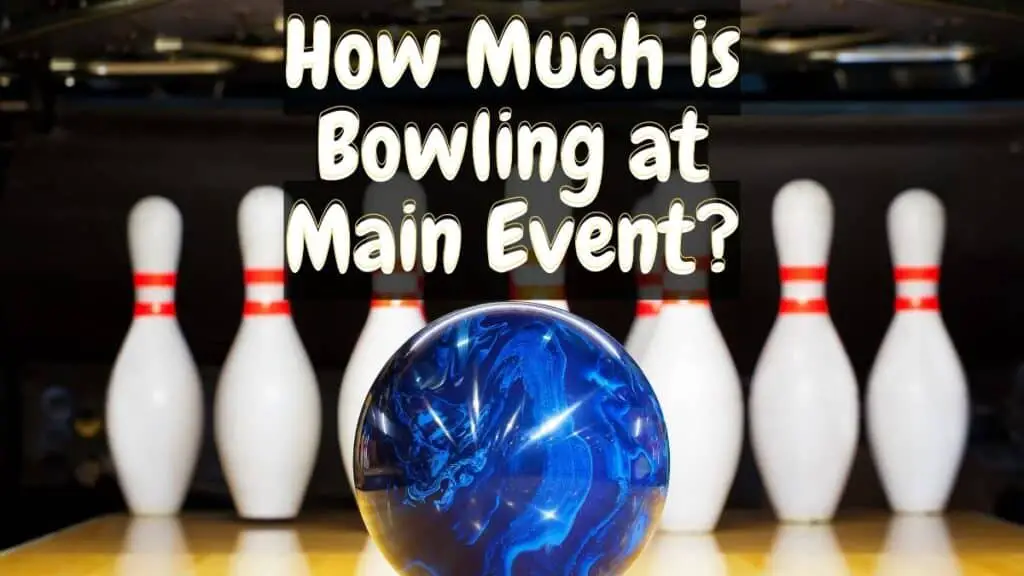 How Much is a Game of Bowling at Main Event?
The cost of a single bowling game at Main Event varies according to the time you select. It will cost you $22 from 11:00 to 17:00, known as daytime off-peak hours. If you choose to play after 17:00 (in the evening peak time), a single game will cost you $36.
These prices are the same for weekdays and weekends. The evening peak time is from 17:00 to midnight. In addition to this cost, you will also have to bear the price of bowling shoe rentals per person if you don't have your own shoes.
All-Day Bowling Pass
If you want to spend the entire day at Main Event, the best option is to buy an all-day pass for each gang member. This is known as Play All Day, costing $18.95 per person. This pass is available from Sunday to Friday.
Other than this, you will have to spend on bowling shoe rentals, the price of which per person is $4.25 for adults and $3.25 for children.
Main Event Bowling Birthday Packages
Birthdays at Main Event are quite popular among the residents. You can customize these parties by choosing activities of your choice along with a meal for the kids. It is also possible to bring your own cake or snacks to save money on food. You can also bring decorations and decorate all you want; the club provides the cutlery and plates, and you have to purchase them.
When you arrange a bowling birthday party at Main Event, every one of your guests will get a present. Moreover, you can get a free bowling game or exclusive merch if you win a lucky upgrade.
Different birthday packages are available at Main Event, starting at just $11.99 per guest, and you can choose one according to your requirements and budget. Here is a breakdown of all the events available, along with their prices.
Want to learn more about bowling with kids? Check out our article on Bowling for Kids.
All You Can Play Birthday
This is the least expensive birthday package and costs $11.99 per person. This package includes 2 hours of bowling as well as other activities. However, it's a self-guided event, so you will not get a dedicated party host.
Birthday Your Way
Select this package if you wish to have a customized birthday party. The package starts at $15.99 per person. You can choose one game to play at this price: bowling or any other game. You will have to pay $5 per person extra for an additional activity.
The Main Event
If you want to have a fully-loaded birthday party at Main Event, you need to choose this package. It starts at $29.99 per guest and includes four activities in total (you get to choose the activity) along with your own choice of food and unlimited fountain drinks. This package also includes a dedicated host to run the show and keep your guests entertained for the entire time.
The Ultimate Gamer
If the birthday girl or boy is a gamer, you can choose this package, which costs $24.99 per person and includes 3 hours of unlimited video games. Keep in mind that this package does not include a game of bowling.
Teen All Access
This is a perfect bowling package for older kids, including 1 hour of bowling and 2 hours of unlimited video games. The basic cost of this package is $29.99 per person, and it is meant for kids aged 12 to 16. This package is very popular among kids as it has everything they want, from unlimited activities to a delicious lane-side buffet.
In addition to the arrangements and an exclusive bowling lane for the party, you can also avail of different birthday kits to make the event even more special for you and your guests. These kits include balloons, bouquets, plates, napkins, and cutlery.
Pancakes and Play
This package is for younger kids offering monster bowling and several fun-filled activities for just $19.99 per guest. These little monsters get to decorate their own bowling pins and pancakes for hours of unrestricted enjoyment.
Snacks and Drinks
Other than the cost of a single bowling game and shoe rentals, don't forget to add up the cost of food and drinks while you enjoy a day of gaming with your friends and family.
Main Event offers a full bar with a huge collection of all types of snacks and drinks, including craft brews and soft drinks for kids. With such a wide variety of foods and beverages, one doesn't have to go out for snacks after the game is over.
If you want to enjoy a game of bowling at Main Event, you must book in advance. The club also offers fun leagues for people belonging to all age groups. Every lane at Main Event has a seating area where you can relax and watch a game of bowling with your guests.
Check out their website for more and updated info.