Bowling is a popular sport requiring skill, technique, and the right equipment to excel. One of the most important pieces of equipment for bowlers is high-quality wrist support. Bowling wrist supports help bowlers maintain a proper wrist position throughout their approach, release, and follow-through, improving accuracy and consistency.
Choosing the best bowling wrist support involves considering materials, adjustability, and comfort. A good wrist support should be made from durable materials that offer flexibility and support without causing discomfort or restricting movement. Additionally, it should be adjustable to accommodate different wrist positions, allowing the bowler to fine-tune their release for optimal performance.
Comfort is another key aspect to consider when selecting wrist support. Comfortable support will reduce the likelihood of fatigue and ensure a more enjoyable bowling experience. With so many options on the market, it can be challenging to determine which wrist support will best suit your needs. We've spent countless hours researching and testing various bowling wrist supports to help you make an informed decision and improve your game.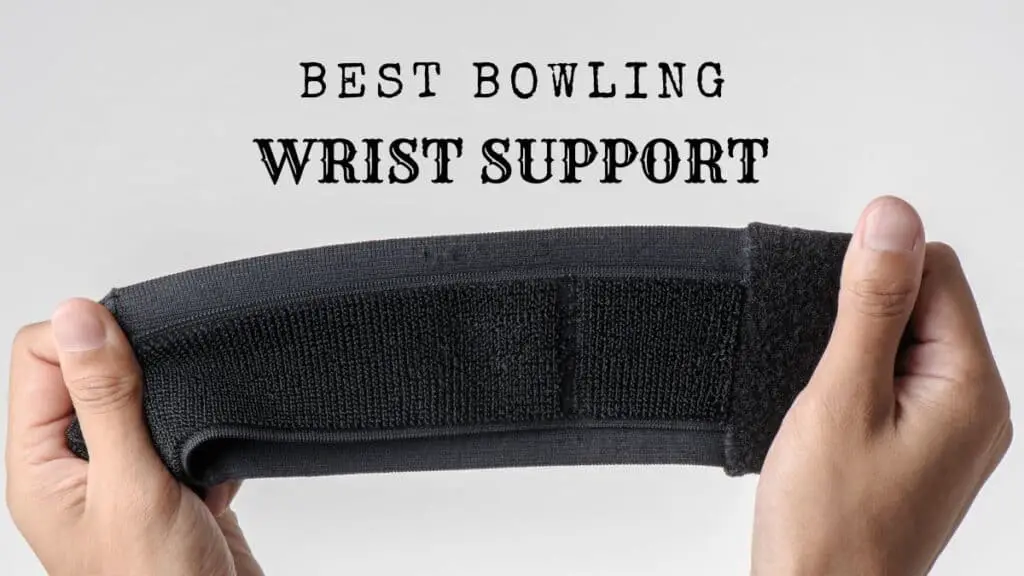 5 Best Bowling Wrist Support
Explore our top picks for the best bowling wrist supports to enhance your game and provide optimal support.
This wrist positioner offers great support and comfort, improving your game with a properly positioned hand while bowling.
Pros
Unique fabric construction for improved comfort and sweat evaporation
It offers excellent wrist support and promotes accurate hand positioning
Secure fit with three adjustable velcro straps
Cons
Requires some time to adapt to the new positioning
Straps could be a bit longer for easier fitting
Limited hand orientation and size options
The bowlingball.com Kool Kontrol Bowling Wrist Positioner offers a unique fabric construction that allows perspiration to evaporate easily, keeping you comfortable throughout the game. The classic design looks great and provides exceptional support, helping keep my wrist in the right position when releasing the ball.
My initial experience with this wrist positioner felt a bit 'wrong,' but I recognized the benefits of keeping my wrist properly as I continued to use it. It comes with a removable metal front, and back supports designed to offer comfort and wrist support. Adjusting the positioner to fit securely was made easy with the help of three velcro straps.
Although this Kool Kontrol wrist positioner served its purpose in improving my bowling skills, it would have been nice to have more accessible strap adjustments for a more effortless fitting. Nevertheless, I consider it a valuable investment. It helped me achieve better results on the bowling lane while ensuring my wrist was well-supported and comfortable.
Check the latest price here: Kool Kontrol Bowling Wrist Positioner
The Storm Neoprene Wrist Support is reliable for bowlers seeking effective wrist support and comfort.
Pros
Decreases wrist pain with added support
Secure, adjustable fit with a large Velcro strap
Breathable and gentle on the skin
Cons
It may not fit smaller wrists perfectly
Velcro strap may wear down over time
Potential size inconsistencies in packaging
Using the Storm Neoprene Wrist Support Regular, I found it quickly alleviated my wrist pain during my bowling sessions. The large Velcro strap made it easy to adjust the tension for an ideal fit, providing adequate support without over-tightening. Its rubber backing maintained a secure position on the wrist, ensuring consistent performance.
The breathable neoprene material was gentle on my skin, preventing any irritation or excessive sweating. However, those with smaller wrists might find it slightly too big, even in the Regular size. It is essential to choose the correct size for optimal support carefully.
Despite some reports of the Velcro strap wearing down after prolonged use, my experience has been positive thus far. In any case, handling the strap with care is crucial to prolong its durability. Overall, the Storm Neoprene Wrist Support Regular offers effective support and comfort, making it a top choice for bowlers seeking to enhance their game while mitigating wrist pain.
Check the latest price here: Storm Neoprene Wrist Support
The Storm Xtra-Hook Wrist Support provides solid wrist stability while enhancing rotation for better ball control.
Pros
Improves axis rotation with extended index finger support
Promotes proper wrist and hand positioning
Comfortable and durable design
Cons
May feel unfamiliar at first
Not bendable metal inserts
Sizing may not be perfect for all users
Storm's Xtra-Hook Wrist Support features an innovative design that extends the index finger to boost axis rotation, providing the advantage you need on the lanes. The support increases lift and helps to maintain proper wrist and hand positioning for greater control and accuracy.
Constructed with outstanding comfort and durability, this wrist support boasts Velcro straps for simple, customizable adjustments. Although some may find the metal inserts firm and the finger support unusual, the Storm Xtra-Hook becomes a reliable companion once users adjust to its unique structure.
You may benefit from enhanced performance and increased scores by incorporating the Storm Xtra-Hook Wrist Support Medium Right into your bowling routine. Try it for yourself and witness the exceptional support and control it offers.
Check the latest price here: Storm Xtra-Hook Wrist Support
Experience comfort and support with the Ovyuzhen Wrist Support Brace, perfect for bowlers needing wrist stabilization.
Pros
Durable and breathable neoprene-blend material
Adjustable and suitable for wrists 6″-10."
Flexible cuff for pain relief and injury recovery
Cons
May not provide firm support for severe wrist injuries
Velcro wear and hold might decrease over time
Some reviews mention inconsistency with product pictures
After using the Ovyuzhen Wrist Support Brace while bowling, I've noticed a significant improvement in my wrist stability. The neoprene-blend material provides a comfortable and snug fit, and the flexible cuff delivers adequate support without limiting my hand movement.
This wrist brace is incredibly easy to adjust, fitting wrist sizes between 6″ to 10″ with its dual elastic force. This feature makes it suitable for various activities beyond bowling, such as basketball, volleyball, or daily computer work.
Although the Ovyuzhen Wrist Support Brace is an excellent choice for most wrist-related needs, it may not be the best option for those seeking firmer support. Some users have reported that the Velcro may wear down over time, affecting the brace's overall hold. Additionally, a few customers noted that the actual product might slightly differ from the listed images. Nevertheless, this brace remains an efficient and versatile choice for those seeking wrist support during bowling or other activities.
Check the latest price here: Ovyuzhen Wrist Support Brace
The Storm Xtra-Grip Plus wrist support is an excellent choice for bowlers seeking enhanced control and better performance on the lanes.
Pros
Reinforced backhand support for a consistent wrist position
Unique gripping material for improved control
Exceptional ventilation to keep your hand dry
Cons
Only available for right-hand users
Not as easy to remove as simpler wrist supports
It may be considered slightly expensive
Having tried the Storm Xtra-Grip Plus wrist support, I can confidently say that it's one of the best investments you can make for your bowling game. The reinforced backhand support helps maintain a consistent wrist position, which is crucial for precision and accuracy during your approach and release.
The unique gripping material on this wrist support adds a layer of control that can make all the difference in those crucial moments during competition. It's also worth noting the unique ventilation system of the Storm Xtra-Grip Plus, which keeps your hand dry and comfortable throughout your games.
While it may not be the easiest wrist support to remove and may be perceived as slightly costly, its control, stability, and comfort benefits should outweigh these minor drawbacks. Overall, the Storm Xtra-Grip Plus is an excellent addition to your bowling gear, geared towards improving your performance on the lanes.
Check the latest price here: Storm Xtra-Grip Plus
Buying Guide
Choosing the best bowling wrist support can help improve your game and prevent injuries. This buying guide will discuss the key features to consider when selecting the right product.
Comfort and Fit
Choosing wrist support that comfortably fits your hand and wrist is essential, as this can directly impact your performance. Find a design that offers adjustable straps and various size options to ensure a secure and customized fit.
Materials and Durability
Look for wrist supports made from high-quality materials, such as neoprene, fabric, or leather, to ensure longevity and comfort. A durable wrist support will not only last longer but will also provide consistent support throughout its lifespan.
Level of Support
Bowlers require varying support levels depending on their skill level, strength, and personal preferences. Choose one with the right level of support, such as those that offer rigid, semi-rigid, or flexible options.
Added Features
Some wrist supports come with additional features that can enhance their overall effectiveness. These may include:
Breathable materials to reduce sweating and discomfort
Cushioned padding for added comfort
Thumb hole or support for improved grip and control
Price and Warranty
Finally, consider the price of the wrist support and whether it offers good value for money. Check if the product has a warranty, which can provide assurance and protection for your investment.
Considering these factors, you can make an informed decision when purchasing a bowling wrist support that best suits your needs and preferences.