Two-handed bowlers are bowlers who use both hands to bowl the ball. Since they use both their hands, they are able to control their trajectory better and deliver a more balanced throw. However, these players need a specialized bowling ball to be more consistent with their deliveries.
The best bowling balls for two-handers are ones that offer more control over the path they take on the lane. If a two-handed player successfully chooses the right ball for himself, he can greatly increase his accuracy and scoring potential.
A lot of practice and hard work goes into learning how to throw a bowling ball using both hands. You must also look for the best ball to produce more hooks and ultimately hit the target. After looking at different configurations, choosing a ball that is more aggressive on the backend is recommended.
This article will explore what to look for in a ball if you want to bowl using both hands. We will also look at some of the best balls for two-handers so you can choose the right one according to your bowling style.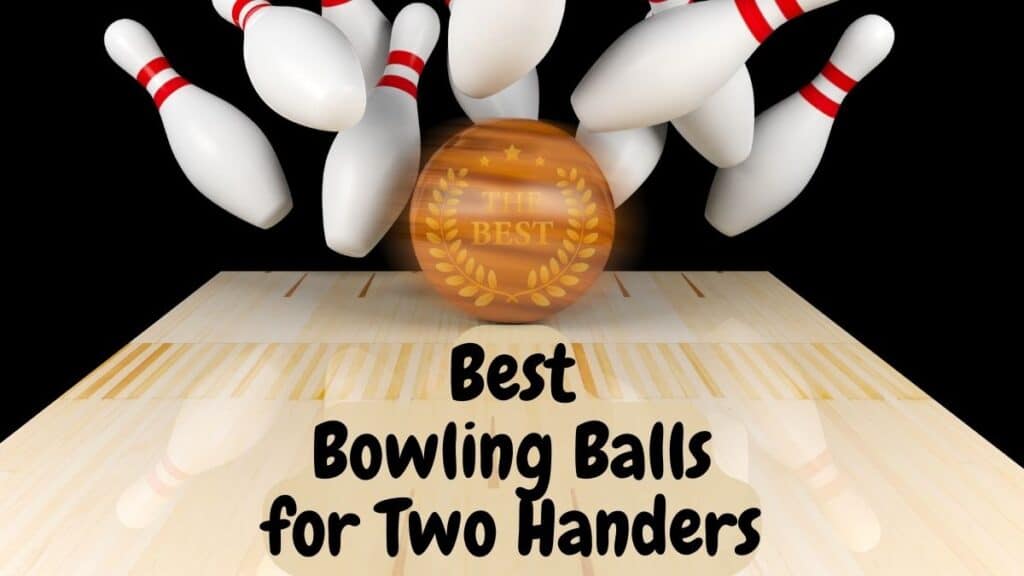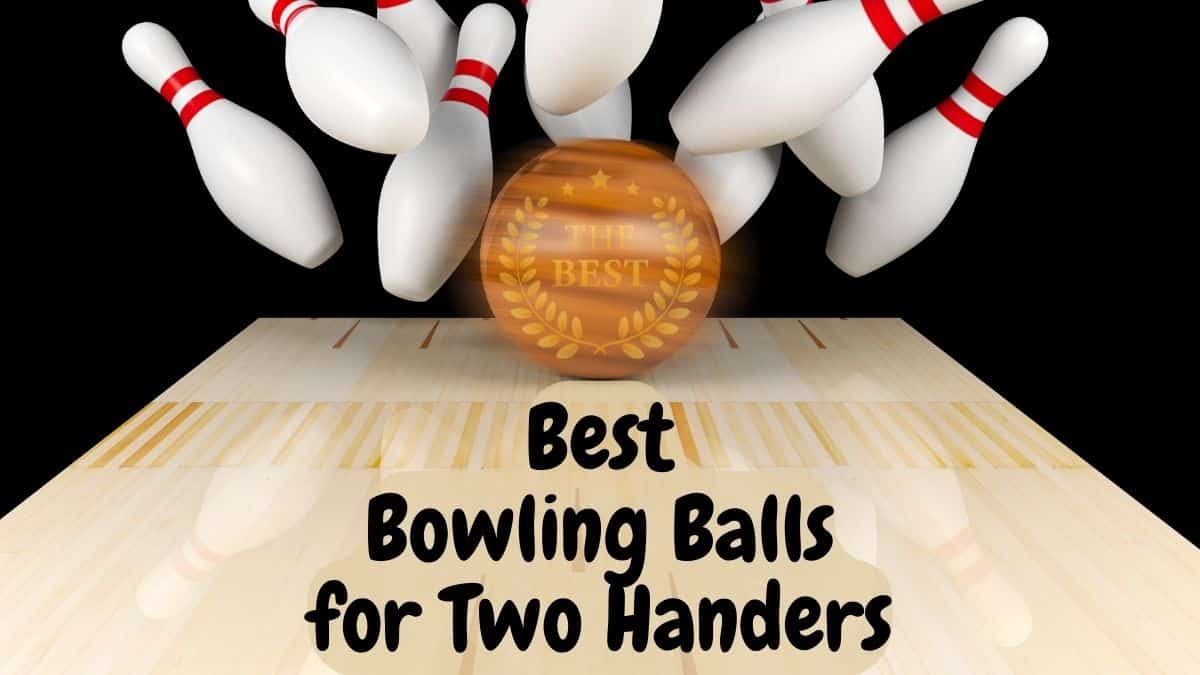 Factors to Consider When Buying a Ball for Two-Handed Bowling
Since the goal is to find a ball that will be more aggressive on the backend, there are three factors to look for when buying a ball for two-handed bowling.
Hook Potential
Although you can use a ball with any type of coverstock, choosing a reactive resin surface is recommended because of its high hook potential. This type of coverstock can absorb more oil and create a lot of friction with the lane surface. This friction can cause the ball to hook more than other types of bowling balls.
Easy to Control
Needless to say, a ball for two-handed bowling shouldn't be very difficult to control. Mid-weight balls are usually easy to control, so the recommended weight you should be looking for is 14 lbs. Some of the top-rated balls include the Hammer Web, the Brunswick TZone, and the Ebonite Maxim. These balls all have great reviews from users who say they are easy to control and provide a great bowling experience. 
Pattern Shots
There are many different bowling balls available for pattern shots. Each one has different benefits and drawbacks. Some bowling balls are designed for specific lane conditions, while others are more versatile. It is crucial to choose the right ball to achieve your desired results.
You would prefer a high-friction ball for two-handed bowling because it will be easier to control regardless of the lane conditions.   
The Best Bowling Balls for Two Handers
Two-handed players can experiment with many different balls to see which one suits their natural style and offers them the most advantage. 
The most important part of the delivery for these bowlers is their form before moving forward. If they can master it, they can use just about any ball to throw a perfect delivery.
Since these players are able to generate high revs around the ball's axis, they can greatly improve their game by choosing a ball that comes with a low differential core. This will help the ball travel farther down the lane before turning. Both solid urethane and reactive resin balls can help achieve this goal, depending on the lane conditions.
Going for a ball with a high-velocity asymmetric core is also recommended. These balls can create more friction on the lane and hook only farther down, which is ideal for two-handers.
These balls will offer maximum control without sacrificing accuracy. If you want to be able to control your shot and hit the target with precision, even if you're using both hands to throw the ball, this is a factor you shouldn't overlook.
Let's have a look at some of the balls recommended for two-handers based on their coverstock and reaction in different lane conditions.
Since bowling with both hands is not easy, it is not something a beginner can master easily. So, balls that come with a highly glossy surface are usually recommended for two-handed bowling. Although these balls are difficult to control, they will be quite aggressive on the backend. 
The Motiv Fatal Venom comes with a 5500 Grit LSP and works exceptionally well when the lane starts to break down. Its pearl-reactive surface offers a lot of traction on the lane, and its core has been designed for more accuracy and power. This ball is available in different specs, but the one recommended for two-handers weighs 14 lbs with a 2.52 radius of gyration.  
Let's have a look at its specs as well as the pros and cons.
Specs
Weight block: Gear
Weight: 14 lbs
Coverstock: Infusion Pearl Reactive
Finish: 5500 Grit LSP
RG: 2.52
Differential: 0.029
Pros
Ideal for light to medium oil conditions
Low RG and low differential
Minimal track flare
Cons
Expensive
Not very durable
Check latest price here: Motiv Fatal Venom Bowling Ball.
---
This ball is perfect for two-handers as it comes with just the right combination of RG and differential and doesn't lose its responsiveness down the lane. This ball is also recommended for people who want to throw a skid-flip ball. The coverstock has the ability to absorb more oil and offer a sharper turn at the breakpoint.
For a consistent reaction, you can choose this ball on medium to heavy oil patterns. Its eTrax reactive coverstock has been specially designed for enhanced traction offering a high hook potential and, ultimately, exceptional performance in different lane conditions. 
The specs of the Roto Grip RST X-2 are mentioned below.
Specs
Weight block: RST Core
Weight: 14 lbs
Coverstock: eTrax PLUS Pearl Reactive
Finish: 1500 Grit Polished
RG: 2.55
Differential: 0.053
Pros 
High flare potential
Minimal deflection
Ideal for high rev rate bowlers
Cons
Very expensive
Not meant for beginners
Check latest price here: Roto Grip RST X-2 Bowling Ball
---
The storm is a name you can instantly recognize in the world of high-performing bowling balls. It has been designed to smooth out the backend without causing much havoc. This makes the two-handed bowler certain that there will be no unpredictable movements down the lane. It comes with one of the finest solid reactive coverstocks in the world – making it one of the best balls for all types of players. 
The ball uses a low RG and high differential core, a combination that is considered ideal for flatter lane conditions. This can be a great option if you're looking for a top-quality bowling ball to test your skills as a two-handed bowler.
Specs
Weight block: Velocity Core
Weight: 14 lbs
Coverstock: Traction-X 2016 Solid Reactive
Finish: 3000 Grit Abralon
RG: 2.53
Differential: 0.050
Pros
It creates an impressive amount of hook
Controllable motion at the breakpoint
Its sanded finish is perfect for heavily oiled lanes
Cons
Not meant for beginners
Does not perform well in dry conditions
Check latest price here: Storm Phaze II Bowling Ball.
---
If you're looking for an entry-level bowling ball to attempt two-handed bowling, which is not very expensive either, this is the ball for you. The ball is strong enough to withstand heavily oiled conditions and is also quite responsive owing to its smooth core. This ball is perfect for high-axis rotation bowlers who want to try different speeds for the best results.
Two handers who have tried this ball have found it extremely easy to throw. It also offers an advantage to the bowler because of its arcing nature. All in all, it provides a consistent and solid feel that is perfect for those who want to bowl with power and precision.  
Specs
Weight block: Raw Hammer Core
Weight: 14 lbs
Coverstock: Juiced Pearl
Finish: 500, 1000, 2000 Siaair/Crown Factory Polish
RG: 2.55
Differential: 0.038
Pros
Reasonably priced
Easy to control
Entry-level ball ideal for beginners learning two-handed bowling 
Cons
It may overhook if lane conditions are not studied properly
Check latest price here: Hammer Raw Bowling Ball.
---
Another entry-level ball for those who are just learning to bowl using both hands, this one will not disappoint you with its performance in different lane conditions. It is designed to go straight down the lane and is perfect for beginners. If you don't want to go into the details of RG and differential, choose this ball and start practicing two-handed bowling.
This ball has a polyester coverstock, so its reaction on a lane is quite predictable. Because of its weight, it smoothly glides down the lane instead of rolling. Although it's available in weight ranges of 12 lbs to 16 lbs, it is recommended to go for the heavier one to achieve that aggressive backend.
Specs
Weight block: Bullet
Weight: 16 lbs
Coverstock: Polyester
Finish: Polished
RG: N/A
Differential: N/A
Pros
Inexpensive
Shows consistent performance for two-handers
Good on dry lanes
Cons
Not very durable
Does not hook
Check latest price here: Ebonite Maxim Bowling Ball.